Home show with some work in organizing  things and relations. Also show groomings for 6 dogs meant a lot of work for previous week. The show was success with almost 2500 entries and so was our Miniature Schnauzer ring too. Judge Goran Gladic took Miniature Schnauzers. That was his first assignment in Finland for the breed. He judged also Swedish Speciality "Kuppen" in 2015. So we were really interested when Saturday started. And of course two first timers set own requirements for the day. And yes, because of the home show we had also a Best of Breed breeder class, too. Thanks to all handlers for your help, they were bit of a handful.
Pepper and Salts
On Junior class males Suvi owner handled Forrest (Imbrez Just Don't Get It) for his first official show. And they did it very well. Second in class with CQ was excellent work from this couple.
On Open class males Mikko handled Calle (Imbrez Go Fenway Go) who was shown for the first time ever, resulting Best Male 3rd and Suvi handled Luke (Imbrez Lucky Luke) with class 4th and excellent with cq.
On Open class females Mikko handled Dina (Imbrez Energizer). That was her first time in the ring after puppies and she used her entry very well. Best Of Breed and last needed certificate made her both Finnish and Estonian Champion. Unfortunately no placement in Group finals.
Blacks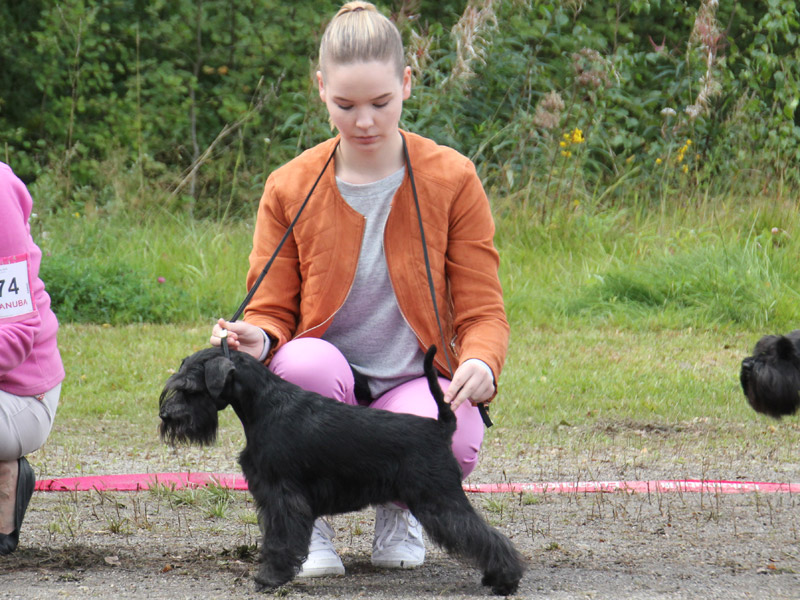 On Open class females Nora owner handled Zena (Imbrez Drop By Drop) to Best Bitch 4th. We are so happy about Zena's year. She has transferred from a little girl to a lady.
We had also fine moments with Annamaria's girls first in Open class females 1st and after half years waiting Martta (Pixbo Yours Truly) was with in Veteran class in nine years age. What a beauty she still is.